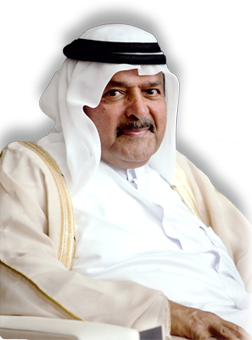 H.E. Shk. Faisal Bin Qassim Al-Thani
Chairman
Born in Doha – Qatar in 1948, Sheikh Faisal bin Qassim bin Faisal Al-Thani is one of Qatar's most successful businessmen and has played a significant role in the development of the business sector in Qatar. The story of Al Faisal Holding's growth and development reflects the same entrepreneurial vision, drive and innovative thinking that has seen the transformation of Qatar into one of the world's strongest and fastest growing economies. Originally created with modest start-up capital in the 1960s as a small local trading company, founder and Chairman H.E. Sheikh Faisal Bin Qassim Al Thani, has over the past five decades built that business into one of Qatar's largest privately held diversified industry groups with operations that are continuing to grow strongly across local, regional and international markets.
Playing its part in the evolution of a broad, knowledge-based economy in Qatar, the Group has earned a strong reputation for anticipating and meeting the growing demand for goods and services of the highest quality as the country's needs and prosperity have developed, in many cases attracting significant foreign direct investment in the process.
The Group's strategy is focused on sustained, profitable growth through diversification by identifying, evaluating and exploiting complementary market opportunities, both organically and in collaboration with world class, industry-leading partners. Today, its operations encompass a wide range of sectors including Real Estate, Hospitality, Industrial Manufacturing, Trading, Services, Transport, Entertainment and Education. together with a range of investments that include its majority interest in Aamal Company Q.P.S.C., one of the fastest growing companies listed on the Qatar Exchange, operating 24 active branches and subsidiaries with a particular focus on industrial manufacturing.
In the last decade, the expansion of its hospitality and leisure business through its wholly owned subsidiary Al Rayan Tourism & Investment Company ("ARTIC") a wholly owned subsidiary engaged in real estate development, acquisition and leasing with a primary focus on the hospitality sector and hospitality-related services both in Qatar and overseas has been a particular recent focus for the Group, which is in the course of building a high quality hotel portfolio in prime city locations. ARTIC current portfolio comprises of more than 25 hotels located across MENA, Europe and America.
Al Faisal Holdings is a widely respected contributor to the development of Qatar's knowledge-based economy through its focus on education and skills development among the current generation of young Qataris on whom the country's future economic growth will rely.
Sheikh Faisal Bin Qassim Al Thani is not only considered a leading business icon, but he is also regarded as a key player in promoting the heritage and culture of Qatar, and is very proud of Qatar's history, and the impact it has had on the social behavior of Qatari society. Sheikh Faisal pioneered the establishment of a heritage venue "Sheikh Faisal Bin Qassim Al Thani Museum", with the objective of reviving public interest and appreciation of local culture, a venue which perpetuated his vision. This window to the beauty and splendor of the past of Qatar, and the Islamic world has been opened for people from all walks of life to view and experience.
Main Positions
Founder and Chairman of "Al Faisal Holding Company"
Founder and Chairman of "Aamal Company Q.P.S.C."
Chairman of the "Qatari Businessmen Association"
Founder and Chairman of "Sheikh Faisal Bin Qassim Al Thani Museum"
Founder and Chairman of "Al Faisal Without Borders Foundation"
Founder and Chairman of "Sheikh Faisal bin Qassim Al-Thani Center for Entrepreneurship in the Middle East"
Other Positions
Member of the Board of Trustees of Qatar University
Member of the Board of Trustees of Business College of DePaul University– Chicago, USA
Member of the Board of Trustees of the American School of Doha (ASD)