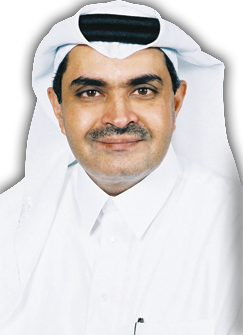 Mr. Khalid Ahmed Al Mannai
Member
A thoroughly seasoned and highly experienced executive with highest level of management skills.
Having completed basic education in Qatar and secondary education in the UK, Mr. Mannai further obtained Bachelor of Business Administration & Management from the University of St Thomas/Rice University, Houston, Texas. Also, studied Agriculture Economis at the Cornell University at Ithaca, USA.
Mr. Mannai initially worked at Morgan Stanley & Co in New York in its Corporate Finance division, where he was fully exposed to all aspects of finance.
Mr. Mannai joined the Mannai Group in 1987 initially in the Stores Department and rose through the ranks to become Vice President in 1989 and was tasked with various business development assignments such as, but not limited to, the development of an airline operation, the establishment of offices in Russia, the establishment of an automotive operation and development of trading activities in Egypt; and the establishment of an automotive operation in Saudi Arabia, in addition to developing business and trading activities.
In October 2000 Mr Mannai was elected as Chairman, and following the successful restructuring of the company and completion of the sale of a majority stake to QIPCO, Mr Mannai is now the Executive Director of the Mannai Corporation.
He has attended several management programmes such as Young Manager's Programme at INSEAD (The European Institute of Business Administration) in France during 1994. He has attended various seminars, such as Second Generation Family Business, Orchestrating Winning Performance – Leading the Family Business at IMD, yearly World Economic Forum meetings and Auto workshops, to name a few.
Born in 1962, he is married with three children.
Mannai Corporation QSC:
Mannai Corporation Q.S.C. is a public company headquartered in Qatar with over 6,200 plus employees. It's diverse range of businesses include automotive and heavy equipment distribution and service, information and communication technology, engineering services to the oil and gas sector, home appliances & electronics, medical equipment, travel services, logistics, geotechnical and geological services, facilities management, trading and commercial representation.
In addition to Qatar, Mannai has presence in Dubai - UAE, India, Omanand Turkey. Mannai wholly owns Damas International Limited - a leading and largest chain of Jewellery brand which has presence throughout GCC. It also holds a minority stake in Axiom Telecom - a largest and authorized retailer for the leading brands of mobile phones in the GCC region.