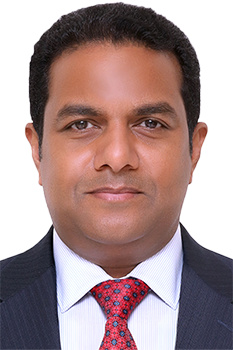 Mr. Mohamed Althaf Musliam Veetil
Member
Mr. Mohamed Althaf is the Director of Lulu Group International, the fastest growing hypermarket/supermarket/shopping mall chain in the State of Qatar. Lulu Group has commenced its operations in Qatar in the year 2000 with its first venture 'Lulu Center Department Store' on Al Rayan Road. As a true follower of ethical business practices, the Group is a key partner in the development of the community. Currently the Group operates 7 state of the art Shopping Malls/Hypermarkets/Department Stores at different locations namely D-Ring Road, Al Gharrafa, Al Khor, Al Messila, Al Rayyan Road, Barwa City and Qatar Foundation's Education City Community Housing, Al Rayyan. Lulu Group has a vast organizational structure of over 3,500 employees comprising of 15 different nationalities. The Group is best known in the State of Qatar through a chain of popular Shopping Malls, 'Lulu' Hypermarkets, Departments Stores and Express Stores, which serve the widest segments of multi-ethnic residents in the region.
Lulu Group has a comprehensive network of Export Distribution Centers in 24 countries including the major state of the art facilities in Turkey, Birmingham, UK, New Jersey, USA, and Madrid, Spain etc., to cater to the regular requirements of European, British and US brands of products.
Mr. Mohamed Althaf is an Indian national and postgraduate, with a qualification in Law from the University of Delhi and Diploma in intellectual property rights from WIPO, Geneva. He is based in Doha, State of Qatar.