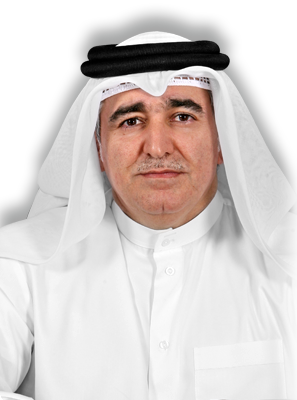 H.E. Sheikh Nawaf Bin Nasser Al-Thani
Board Member
A visionary entrepreneur and forward-thinking strategist, focused on firmly imprinting Doha on the global business map, His Excellency Sheikh Nawaf Bin Nasser Bin Khaled Al Thani is one of the most influential business leaders in Qatar and the Middle East.
An extended member of Qatar's ruling family, Sheikh Nawaf is currently the Chairman of Nasser Bin Khaled (NBK) Holding, Al Wa'ab City, Doha Insurance Company and Nasser Bin Nawaf & Partners Holdings.
His business insights combined to his approach towards enhancing the business community in Qatar, Sheikh Nawaf expanded his family empire, NBK, to firmly establish it as a pioneering business conglomerate in Qatar setting performance standards and benchmarks across diverse industry platforms including automotive, construction & real estate, industrial services, agriculture, travel, lifestyle & fashion and IT services amongst others. Having established an indelible mark in Qatar's socio-economic growth story, NBK Holding has expanded its business portfolio in tune with the growth of the country led by the farsighted business acumen of HE Sheikh Nawaf Al Thani.
Leveraging market opportunities and creating new platforms for growth, he founded Al Wa'ab City, one of Doha's most prestigious real estate developments. The world-class 'city within a city' development features the full spectrum of mixed-use components including residences, commercial property, retail, hospitality, F&B, healthcare and leisure assets.
To further support Qatar's economic development and contribute to its positioning as a regional business hub, Sheikh Nawaf founded the Nasser Bin Nawaf and Partners Holdings (NBN) in 2008. In a very short period of time NBN has firmly established its credentials as a leading business house committed to sustainable growth and expansion and adding long-term value to all stakeholders through investments in niche business solutions, real estate, construction, jewelry, as well as project management solutions, event management and fire safety equipment.
Through a clear vision that focuses on innovation, business and financial development and economic progression working in line with the strategic objectives of State of Qatar, Sheikh Nawaf sits on the board of prominent regional and international organizations working towards strengthening the foundation for the development of the private sector in Qatar. He serves as member of the board of directors of the Qatari Businessmen Association as appointed by an Emiri decree; Vice-President of the Arab German Friendship Association; President of the Qatar- French Businessmen Club; board member of directors of Al Salam International; member of the MEA Advisory Board of Deutsche Bank; board member of Samena Capital- a premier investment group focusing on principal investments in the Subcontinent, Asia, Middle East and North Africa.
In addition, Sheikh Nawaf has previously shared his business insights and provided guidance and counsel serving on the advisory boards of Qatar Navigation, Arabtec and Abraaj Capital.
Sheikh Nawaf used his passion for horses to set up the first show horse farms in Qatar. Established in 1990, the farm is renowned for breeding Arabian horses of the highest quality, with an emphasis on the finest straight Egyptian bloodlines along with mixed blood lines. Home to some of the regions most treasured broodmares, the farm's desirable stallion collection have won national and international titles across the Middle East, USA and Europe such as the Middle East Championship, Al Nations Cup Germany, Paris World Championship to only name a few.
A staunch supporter of healthy values within the community, Sheikh Nawaf is widely regarded for his commitment to nurturing Qatar's young talent and developing the next generation of sports enthusiasts within the motor sports, equestrian, tennis and golf arena. Sheikh Nawaf has led the Qatar Motor and Motorcycle Federation and Qatar Marine Sports Federation and helped establish Qatar as a destination for sporting events. He is also highly recognized for his equestrian interests, skills and initiatives in promoting this sport.
With an ongoing personal pursuit towards excellence, Sheikh Nawaf is a graduate in Business Administration from the United Kingdom, and has been the driving force of NBK and associated companies since joining the organisation in 1983.
A History in The Making
In the early 1950's, the late Sheikh Nasser Bin Khaled Al Thani established Nasser Bin Khaled Holding with a distinct vision:
History
A commitment to establishing a world-class company, one in which entrepreneurial excellence was the norm, whose innovative and ethical business practices would benefit not only its individual customers, but the State of Qatar. Then he set about making this vision into a reality.
Under Sheikh Nasser's guidance, the company quickly became one of the most respected, in-demand operations in the country and the region.
NBK managed the selling and distribution of notable international brands in the Qatari market and, later on, expanded its range of activities to encompass significant investment, industrial and trade sectors, turning into a key player in the rapidly developing economy of Qatar.
Over the years, Nasser Bin Khaled widened its umbrella of businesses to include several new companies with various operations, and partnered with key multi-national organizations. NBK owns major companies in the fields of Automotive, construction, oil & gas, agriculture, real estate, fashion, hospitality and IT.
Today, in the automotive industry, Nasser Bin Khaled is a leading provider of premium international products and services that cater to the ever-growing local market demands. NBK earned the trust and esteem of the local market by providing quality products and a diversified line-up of multi-national names turning Qatar into one of the most prominent competitive automotive markets in the region and well beyond. NBK has aligned itself with many global companies offering prestigious brands such as Mercedes-Benz, Mitsubishi Motors, Mitsubishi Fuso, Harley-Davidson, Brabus, Hamman, Fab-Design, Kawasaki, MV Agusta and Michelin to name a few. Additionally, NBK founded heavy equipment, power generation, material handling and transportation solutions' divisions in order to provide the country, its developing companies and its citizens with an all-encompassing, sole provider of premium automotive services and products.
Aspiring to set a new "Capital of Fashion" in the Gulf, NBK also ventured into fashion and brought home a line-up of the most coveted brands such as Amen,Barbara Bui , Camilia, Quiksilver and others.
As one of the leading local home-grown conglomerates, Nasser Bin Khaled has itself the aim to continuously boost Qatar's status as one of today's world energy giants, environmental and agriculture specialists, as well as home care and healthcare regional key players.
With a shift from a strictly petrochemical economy to a diversified economy, healthcare ranked high on Qatar's national agenda. The country is bound to the pledge of establishing an integrated healthcare centre and system of excellence, a system that allows for better-off and well-enhanced health and nutrition services caring for local as well as regional GCC citizens who prioritize longer quality lifestyle. Compelled to rising to the occasion, Nasser Bin Khaled introduced a Medical Equipment division providing leading brands in medical supplies that offer span hospital furniture, gymnasiums and health equipment, medical gases and tubes, first aid and emergency equipment, medical treatment facilities and others.
Perfecting its line-up of services for home and interior lifestyle, NBK partnered with dynamic, quality focused design & building companies providing fully comprehensive, integrated interior services for both residential and commercial projects.
Moreover, Nasser Bin Khaled secured its involvement in many landmark developments including Mercedes-Benz Showroom, the Central Bank of Qatar, West Bay Al Salam Plaza, Sealine Beach Resort, West Corner Centre in addition to various schools and the Ministry of Education projects among other prestigious projects completed throughout 30 years of experience. The company has, also, employed its experience and expertise on public buildings, mixed-use compounds, deluxe villas, pump stations, factories, workshops and sea ports. The business group has also been closely linked to Qatar's first true community lifestyle development, Al Wa'ab City.
Bringing to the market a combination of deep-rooted local expertise and international knowledge in real estate, Nasser Bin Khaled boasts of top quality strategic, proactive business operations, transparency, and professionalism. With a mission to enhance the urban and social milieu in Qatar, NBK has engaged in the buying, selling and maintaining of property, as well as coordinating property management for industrial, commercial and residential buildings plus a diversified range of corporate investment and retail operations, with services extended to reach project development, design and supervision, feasibility studies and annual budgeting.
Nasser Bin Khaled attributes its successes to an extremely proficient team which has, always, been at the heart of executing major private and public developmental projects in the country and which has made NBK's vision a reality.
Since its inception, NBK has achieved more than just astounding commercial success. Today, the company has earned unprecedented levels of credibility and trust among its clients in Qatar and beyond. A testament to this fact can be found in the company's strategic alliances with internationally renowned organizations.
As Qatar moves forward, the vision of His Highness the Emir of Qatar is unfolding in the form of impressive achievements. NBK's success has played a central role in Qatar's overall rapid development, contributing to the growth of the economy and community.
Guided by its Vision for the Future, Nasser Bin Khaled is poised to keep on leading the Qatari market with its various services and product lines, all the while following the innovative, pragmatic and proactive strategies that cater to the diversifying requirements of a modern, cosmopolitan market.