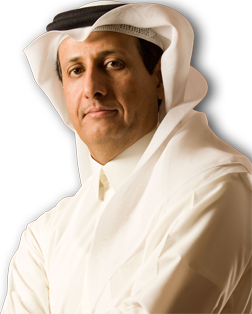 H.E. Sheikh Hamad Bin Faisal Bin Thani Al Thani
Board Member
H.E Sheikh Hamad Bin Faisal Bin Thani Al-Thani joined al khaliji in February 2009.
His Excellency, widely known in the region and regarded as one of Qatar's most influential business figures, brings an enviable track record to al khaliji.
His Excellency has held a number of prominent positions, including the post of Minister of Economy and Commerce of Qatar, and Vice Chairman at Qatar National Bank (QNB), one of the region's largest banks, which posted another record strong growth in 2008.
Other senior positions previously held by His Excellency include:
Chairman of Qatar General Organization for Standard & Metrology
Member of Supreme Council for Economic Affairs & Investment
Assistant Undersecretary Minister of Finance, Economy & Commerce
Director of Customs Department
Heir Apparent Office, Diwan Al Amiri
His Excellency is also a very active member of the Qatar business community. In addition to his post as Chairman and Managing Director of al khaliji, His Excellency holds the following key positions:
Board Member, Qatari Business Association
Board Member, Qatar Insurance Company
Board Member, Gulf Holding Company
Board Member, Islamic Financial Securities
Member of Rand, Qatar Policy Institute Board of Overseers
His Excellency holds a Bachelors Degree in Political Science.