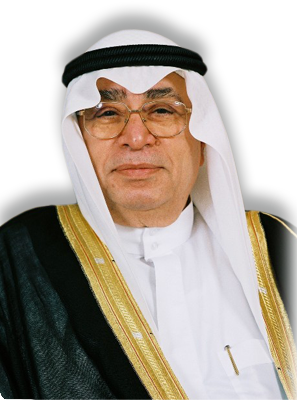 Mr. Hussain Ibrahim Al-Fardan
First Deputy to the Chairman
Hussain Ibrahim Alfardan is the driving force behind one of the most successful and powerful family-owned conglomerates in the Arabian Gulf. Born in 1933 to a pearl merchant family, Hussain Alfardan quickly developed his skills as an astute businessman under the tutelage of his father, who was one of most renowned pearl traders in the Arabian Gulf.
Hussain Alfardan started his rise to prominence when he single-handedly revived the family business, which had been affected by the introduction of cultured pearls by the Japanese and the outbreak of World War II. Capitalizing on the economic boom in the Gulf region and making good use of his experience in trading high-value products, Hussain Alfardan established Alfardan Jewellery in Doha in 1954, sowing the seeds of a highly successful business diversification strategy that fueled the rapid growth of the family's business interests. Under Hussain Alfardan's guidance, the jewellery business flourished and branches outside Qatar were subsequently opened, including those in the Saudi Arabian cities of Riyadh, Jeddah and Khobar.
Moving forward with his business diversification strategy, Hussain Alfardan expanded his business interests into the banking sector and eventually distinguished himself for establishing Qatar's first private bank.
Hussain Alfardan nurtured a culture of hard work and a commitment to excellence in all his business endeavors, creating the strong foundations of what would eventually become a major conglomerate in the form of the Alfardan Group, which now boasts of operations across the Arabian Gulf and in various parts of the world. Inspired by Hussain Alfardan's value-driven business philosophy, Alfardan Group is now a leading brand associated with high-quality products and services through its business interests in the trade of Jewellery and Watches, Automotive, Properties, Hospitality, Marine services, and Exchange.
Hussain Alfardan also holds senior positions in various financial firms and other companies.
1. Vice Chairman & Managing Director of Commercial Bank (Qatar)
2. Vice Chairman of Gulf Publishing and Printing (Qatar)
3. Vice Chairman of Qatari Businessmen Association (Qatar)
4. Chairman of QIC International LLC (Qatar)
5. Board Member of Investcorp Bank (Bahrain)
6. Board Member of Qatar Insurance Co. (Qatar)
Over the years Alfardan Group has been consistently honored by the government and the private sector for its excellence in various fields. Hussain Alfardan himself has received individual recognitions for his hard work, commitment to excellence, and contributions to the Group's success in Qatar and abroad.
Hussain Alfardan remains focused on further diversifying the Group's investments and positioning Qatar as a preferred destination for regional and international investors. With Qatar experiencing a major economic boom under the country's visionary leadership, Hussain Alfardan expects Alfardan Group to cement its footprint as a leading contributor in the socioeconomic growth of the country.
Some of the main companies under the Alfardan Group include:
National:
1. Alfardan Group Holding Company
2. Alfardan Jewellery
3. Alfardan Automotive Operations
4. Alfardan Properties
5. Alfardan Marine Services
6. Alfardan Hospitality
7. Alfardan Investment
Regional:
1. Alfardan Trading Limited (KSA)
2. Alfardan Holding (Oman)
3. Alfardan Properties (Oman)
4. Alfardan Automobiles (Oman)
On a personal note, Mr. Hussain Alfardan loves collecting antiques, art and gem stones. He also enjoys fishing, and collecting natural pearls, which he uses to make exclusive pieces of jewellery.