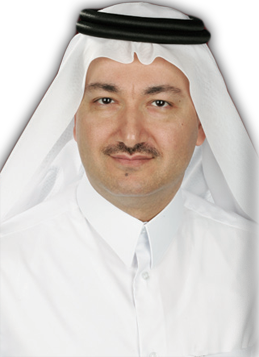 Eng. Ali Abdul Reda Mashhadi
Member
Born in 1961, holder of a BS diploma as "Architect" from Dortmund University in Germany, in the year 1991. He is Fluent in Arabic, English, German languages.
He started his operational life with the Ministry of Municipality & Agriculture- Civil Engineering Division; whereby he worked for a period of 10 years by administering many governmental projects.
Due to the immeasurable experience he gained as well as his future vision and ambition, he decided to establish Al Madar Holding, as well as he became its chairman as of 1992 to date. He worked hard to place the Holding Company into the first lines due to his focal point and way of dealing with all urgent situation in person influenced by his brightness and precision in executing the projects within the limited intervals required, the company was posted as first class company by the Central Tender Department as a recommendation to the well equipped projects executed in the field of real estate development in its different sectors.
The Company contributed in a specialized and particular manner in the thriving of Qatar, and will remain focusing in the same way, thus to grow more and leave its specimen all over the country.
ABOUT THE COMPANY:
Al Madar Holding has more than 23 years of experience in the real estate development and attained a reputable name due to its state-of-the art projects. The Company has delivered and completed numerous projects such as Towers, namely the Iconic Prize Winner Al Noor Tower located @ West bay, Hotels, villas compounds with a clubhouse, substation, guard and store room, electro-mechanical installation, landscaping works, in several areas within Doha. Also designing & developing residential and commercial towers and buildings, schools, residential compounds, hotels, governmental parks in different districts and sections of the country, and many other projects. Successfully we delivered more than 200 projects to date in Qatar.
Engineer Ali headed the Holding Company depending on his sharp judgment and philosophy to take part in the intramural and peripheral areas.
the Al Madar Holding was amongst the major players in the pinnacle of Dubai booming by investing and developing many projects, some are already delivered and other under construction, naming a few the Iconic "Scala Tower" located @ Business Bay nearby Burj Khalifa already delivered, "Siraj Tower" a 30-storey tower with stupendous stipulations and finishing's and "the Burj View" (under construction) both located @ Arjan district nearby the Miracle Gardens in Dubailand.
Al Madar encompasses numerous Engineers, Consultants, Specialized Managers and Technicians with high qualifications and excessive experience. The Company also owes a fleet of equipment's and cars, machineries and innovative tools.
Over and above, the Company has already opened a new portfolio of investments in Germany in the real estate sector at the time being.
Now, our future strategy is to focus on broadening our position within Qatar marketplace and to expand farthest to be amongst the leading players in the development and business sectors in the GCC countries, its neighborhoods, and European countries in the near future.