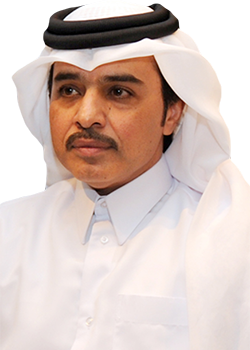 Mr.Ibrahim Hassan Al Asmakh
Member
Mr_Ibrahim_Al_Asmakh was born on February 18, 1962 in the State of Qatar. His father, Mr. Hassan Al-Asmakh (1883-1986), was a prominent businessman. In 1920, Mr Hassan Al Asmakh embarked on what was to become an extremely successful career in real estate. His strong work ethic, excellent reputation and his good relationship with H.H. The Emir of Qatar and the Al Thani Family was rewarded when an area in the heart of downtown Doha, near Souq Waqif, was named in his honour (Al-Asmakh Street).
In 1987, Ibrahim Al-Asmakh graduated from the University of Arizona with a B.Sc. degree in Finance and Business Administration. He then returned to Qatar and joined Qatar Petroleum, where he worked until 1993.
In 1993, Mr Ibrahim Al- Asmakh decided to revive his father's real estate business under the name "Al-Asmakh Real Estate and Development Company", establishing "Regency Travel and Tours" in the same year. "Regency Travel and Tours" is now considered to be the leading travel company in the State of Qatar and has been the proud winner of the "World Leading Travel Agency" award and the "Middle East Leading Travel Agency" award for eight consecutive years (2007-2015).
These two companies were to become the pillars of what would later be known as "Regency Group Holding" (www.regencygroupq.com); a group of diverse companies, acting in major economic sectors with a manpower of more than 3000 employees from 34 different countries. Regency Group Holding has become one of the well represented and active groups in Qatar.
Aside from being the President of "Regency Group Holding", Mr Ibrahim Al-Asmakh had an active role in promoting the State of Qatar: From 2001- 2003 Mr Ibrahim Al-Asmakh was assigned Vice Chairman for the Qatar Tourism Agency. He also represented Qatar at major international conferences and exhibitions related to other industries.
Mr Ibrahim Al-Asmakh has been the main speaker at the prestigious "Leaders in Dubai" event, where he was chosen to be one of the "Al-Rouad Members" (Leaders' Members) in the Middle East.
In 2010, Mr Ibrahim Al-Asmakh established Al-Asmakh charity. The charity is dedicated to offering advice and funds to businesses in developing countries, helping them to expand and flourish.
On January 11 2012, Mr Ibrahim Al-Asmakh was named "Travel Personality of the Year" by the World Travel Awards
As part of its social responsibility, Regency Group Holding is the official club sponsor of Al-Ahli Sports Club. Al-Ahli Football Club has been a key pillar in the community in Qatar and has a long history of sporting excellence. Under the sponsorship of Regency Group, the club has enjoyed promotion to the Qatar Stars League.
Regency Group Holding comprises of the following companies:
In the Real Estate Industry:
Al-Asmakh Real Estate Development Company
Regency Real Estate
DTZ Company
Al-Asmakh Facilities Management
Regency Beverly Hills Real Estate
In addition, Ibrahim Al-Asmakh has significant investments in real estate in The Kingdom of Saudi Arabia, The Sultanate of Oman, The Hashemite Kingdom of Jordan, The Islamic Republic of Mauritania, The United States of America and Europe.
Most recently Mr. Ibrahim Al-Asmakh launched a major real estate development in Entertainment City Qatar at Lusail City which comprises of:
Vendome Mall – a retail mall with an approximate buildup area of 1,000.000 sqm , which will make it the largest mall in Qatar
One five star hotel
One four star hotel
One serviced fully furnished apartment building
Residential villas and buildings extending over an area of 500.000 sqm.
Six additional towers are currently being developed at The Pearl Qatar .
In the Tourism Industry:
Regency Travel and Tours (37 branches in Qatar with plans to expand into the U.A.E and KSA)
Regency Holidays
In the Hotels and Hospitality Industry:
Wyndham Grand Regency Hotel (5 stars)
Movenpick West Bay Doha (5 stars)
Ramada Encore Hotel (4 stars)
In the Arts:
Regency Arts – An initiative aimed at promoting and diffusing culture. Regency Art holds a yearly symposium to exhibit the paintings and sculptures of dozens of artists from Qatar and around the world.
In the Construction Industry:
Al-Asmakh Contracting
Regency Pools and Landscaping
In the Transportation Industry:
Regency Fleets (comprising a fleet of 1200 cars)
In the Insurance Industry:
In Medical Services:
Chain International Medical Company , company that owns Kulud Pharmacy chain with 27 branches
In Other Industries:
Emirates Kitchens
Regency Recruitment Solutions Company
Regency Public Relations
Regency Services
Regency Gas
Ghalia Media and Advertisement Qatar
"Regency Group Holding" is still expanding within existing and new sectors. The Group is moving forward in the following fields:
Logistics services:
Joint venture with Al Meera Hypermarket and Aramex has been established
A large logistics city with an area of 469,410sqm is under
development
IT
Education
Cement industry
Going forward, Regency Group Holding aims to further enhance its regional and international reputation by recruiting more talented staff and continuing to train its existing staff to ensure that the company's values remain at the heart of everything it does.